Increaser of the Peace
In 2006, two other Oak Park fathers and I produced a DVD and wrote a book for teachers called Increase the Peace.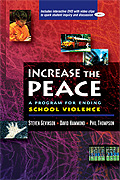 Here's the backstory:
In Green Bay, Wisconsin, on September 14, 2006, a 17-year-old student prevented a horrific incident by telling authorities of his knowledge of a Columbine-like plot to shoot up his school. Troubled by what he had heard from the student plotters, he had gone to his mother, who told him to do the right thing.
"After some long thought and good parenting, I decided it was my duty to inform the authorities," he said. "If I didn't go, and they were serious, I couldn't live with all that on my conscience."
We designed Increase the Peace for the vast majority of young people who could benefit from outstanding classroom intervention around issues of school violence. In the hands of a sensitive, effective teacher, the stimulating activities in this program can help move students to a more thoughtful, responsible perspective. A perspective that could—as it did in the story above—help save lives.
We have seen students learn and mature as they use our program. In a world in which guns and bombs can explode in a school on any given day, our young people need a safe environment in which to explore the contours of that dangerous world and their responses to it so that they can empower themselves to act effectively when it counts. Increase the Peace is a potent tool for such exploration and empowerment.
We began working on Increase the Peace about a year after Columbine. We were not experts on violence prevention, but as educators, communicators, and parents with children in our local public schools, we understood some pertinent facts. First, we accepted that in today's world our community schools, like all schools in the nation, were vulnerable to school shootings. We also recognized that besides destroying or devastating the individual victims, a school shooting shatters a community and its sense of itself as a safe place for children to grow and families to thrive. Finally, we understood that excellent educational intervention could minimize the likelihood of such violence.
We decided to pool our talents and embark on the project. We read the literature on violence prevention, interviewed experts in related fields, explored promising pedagogical approaches, reviewed programs then available to schools, tested our ideas on students, and piloted our activities in classes. Increase the Peace became a set of classroom activities, utilizing the interactive potential of DVD technology, designed to engage students cognitively, emotionally, and imaginatively in their own struggles to understand the right thing to do and how to do it. Our work confirmed our notion that the best way to prevent school violence is to educate students to be more thoughtful, responsible, and mature.
Some students, like the young man in Green Bay, are mature enough not to need the activities of Increase the Peace to help them decide what to do in such a situation. And some students are far too disturbed to be helped by such classroom activities. But most young people have a great deal to learn about making good decisions in violent or potentially violent circumstances. Although we offer no prescriptions for action in Increase the Peace, the program provides learning experiences in which students intently discuss, debate, role-play, analyze, and reflect, preparing them well to respond to problems in ways that will help ensure their own safety and the safety of others.
Young people yearn for direction and clarity, but they also want to find them on their own. In Increase the Peace we strove to honor their complex impulses – helping to empower them to act effectively and make mature decisions – for the good of us all.
Increase the Peace can be purchased here: http://books.heinemann.com/products/E00952.aspx